Press Release: 2/28/18
1871 member company Genivity, which provides clients with life-planning solutions, will pitch at Google Demo Day in San Francisco on 

March 28th.

 Each year, Google Demo Day brings a diverse group of startups from across North America to Silicon Valley to showcase their technology and meet investors and mentors. Startups are nominated by partners within the Google for Entrepreneurs Partner Network.
Google teams review nominated startups and select them based on the strength of the team, execution and traction, and their growth potential. The program is an opportunity for founders to work side by side with a team of experts to craft a compelling narrative, prepare for on-on-one conversations with investors, and build a visual presentation to secure funding. This funding preparation is capped off with a private dinner with investors and an exclusive pitch event. Startups that pitched at previous Demo Days have raised over $249 million and nine have been acquired. Genivity secured 1871's nomination by delivering an impressive presentation at 1871's Pitch Day event, where a select group of member companies pitched to a panel of judges drawn from the 1871 community.
"We saw a top-notch group of startups that day, but Genivity stood out to us as a company with a strong product, an even stronger team, and true potential for growth. Genivity is an excellent example of a member company that has taken full advantage of the many resources 1871 provides, and we look forward to cheering them on as they tackle this new and exciting opportunity." – Howard A. Tullman, CEO, 1871
Co-founded by Heather Holmes and Dr. Emily Chang, Genivity is an award-winning life-planning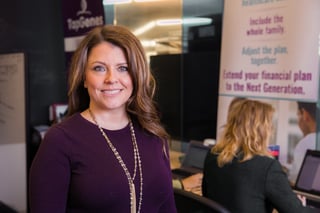 platform that personalizes future health and elder care costs to help financial professionals better drive client engagement, retention, and growth. Holmes participated in the fourth cohort of 
WiSTEM
, 1871's accelerator program for women entrepreneurs, and has since graduated from the program and her team has occupied a private office space at 1871. Over the course of the last year, Genivity has experienced significant growth — they've expanded their team, launched a new product, and won multiple awards. What's more, Holmes was invited to meet with the Treasury Department in Washington D.C. just last year  — along with a handful of other fintech innovators from around the country — to discuss government regulation and its impact on fintech innovation. .
"Our team is humbled and ecstatic to be chosen to represent Chicago and 1871 at Google Demo Day. Health and elder care expenses are the number one cause of bankruptcy in retirement, and we appreciate Google shining the spotlight on this issue and showcasing how Genivity can help." – Heather Holmes, CEO, Genivity